movr™ Resources
---
Partner Spotlight: Move for Hunger Receives Award at the Community Partnership Luncheon
I hope you had a wonderful Memorial Day. While I enjoyed the opportunity to reflect and spend time with my family and friends, I was anxious to get back to the office on Tuesday. Hunger, as we know, doesn't take a vacation. In fact, food banks face their greatest need during the summer months when children are on vacation and are no longer receiving reduced-cost or free lunch at school. The Move For Hunger program provides vital support to food banks year-round, which is especially important during the summertime.
With so much work yet to be done in our fight to end hunger, it can be easy to lose sight of what we've already accomplished. Just this past month, we've added over a dozen new partners to our ever-expanding network. Current members, such as our friends at Berkshire Hathaway Home Services Zach Shore Realtors, hosted food drives that made a tangible impact in their communities. And last week, we welcomed over 20 new interns who will support our mission throughout the summer.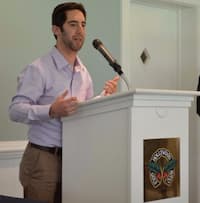 On top of all that, we received a $25,000 grant from the Mutual of America Foundation. We were presented the award at the Community Partnership Award Luncheon the foundation hosted to acknowledge the contributions of those individuals who have helped make Move For Hunger what it is today. Seeing so many of the allies we have made over the past seven years together under one roof served as a welcome reminder of just what is possible when a group of people are committed to a common cause.
To date, our network has collected over 6.5 million pounds of food - that's the equivalent of over 5 million meals on the plates of hungry people across the United States and Canada. We're going to work tirelessly to make sure reach that next million by the end of the year, but we need your help. So please, host a food drive, make a donation, join our race team - whatever you can contribute makes a difference. I've seen where we've been and know how much further there is to go. As overwhelming as it may seem at times, we CAN end hunger...but only by working together.
More helpful moving articles